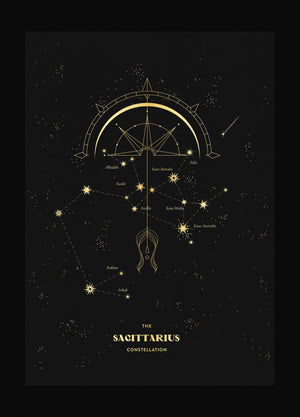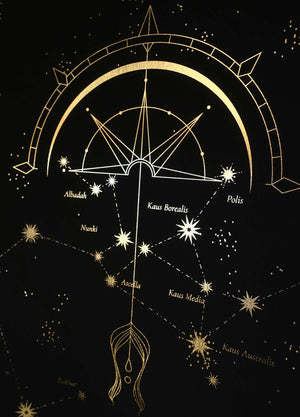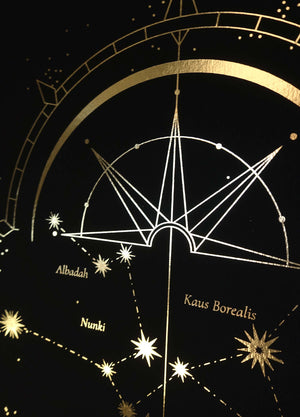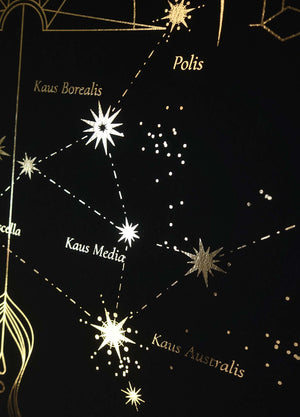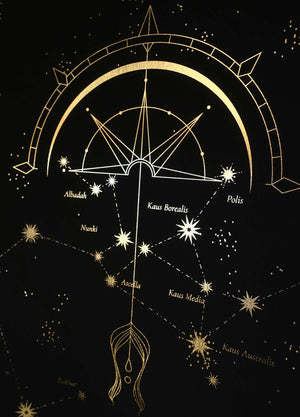 ✦ Eco friendly Ink & recycled materials
✦ Ethically made and sourced
✦ Small run production
✦ FSC Certified
✦ Carbon neutral shipping
✦ Family owned brand


.
.

In Greek mythology, Sagittarius is identified as a centaur: half-human, half-horse. In some legends, the Centaur Chiron was the son of Philyra and Saturn, who was said to have changed himself into a horse to escape his jealous wife, Rhea. Chiron was eventually immortalized in the constellation of Centaurus or in some version, Sagittarius. The arrow of this constellation points towards the star Antares, the "heart of the scorpion." Sagittarius is also associated with the mythological figure of Bellerophon, from the Greek myth of Pegasus.
The Archer, as the constellation is called, commemorates one of the more heroic figures of the zodiac. This mythical figure is Chiron, the kindest and gentlest of the Centaurs. Centaurs were half-man, half-horse. Although many of them were stupid and violent, Chiron was known for his wisdom, his caring nature, and his ability to teach. He was immortal; his father was Kronos, and his mother was the daughter of the sea god Oceanus. Chiron tutored the young Greek heroes Achilles and Jason, among others. He was renowned among the Greeks, although he lived by himself in a cave in the countryside.
Heracles shot him with an arrow by accident. The hero had been trying to wipe out the other vicious centaurs which were plaguing the countryside. He had no intention of shooting Chiron and was extremely remorseful. Although Chiron used his medical skills on the wound, it was incurable. Heracles' arrows were tipped with the deadly venom of the Lernean Hydra, which killed any victim it touched. But the centaur was an immortal, which changed the situation. Chiron was in terrible agony, but he could not die, although he wanted to. Prometheus, the Titan, saw his plight and managed to help him. It is not clear what exchange Prometheus and Chiron made, but the Titan made Chiron mortal and enabled him to leave the Earth and go up to the heavens.
—
Made by us in our Studio
Size: A3 Size (29.7 x 42.0cm), (11.69 x 16.53 inches)
Paper: Cotton Munken Polar 240 gsm.
Features: Metallic Foil
Shipping times: Up to 5 business days.
Shipping Package: The Art Print is sent in a thick recycled paper tube, wide enough to keep your print protected. 
Environment / Safety: FSC-C020637, PEFC_05-33-99, EU Ecolabel : SE/011/05, The paper is inspected for Nordic Ecolabelled printing, ECF, ISO 14001, EMAS,  Age resistant (ISO 9706), Woodfree 
(Frame not included)