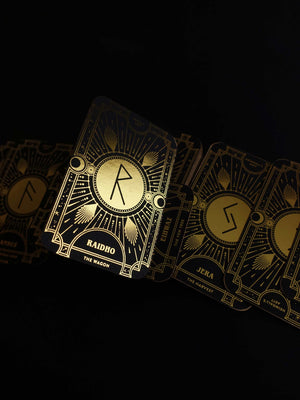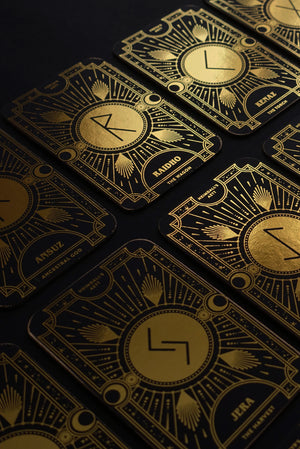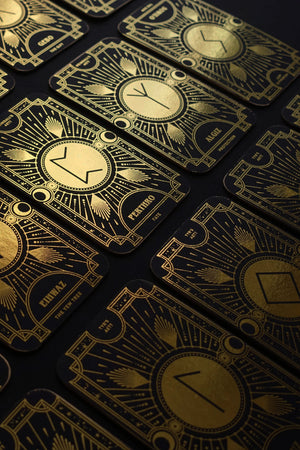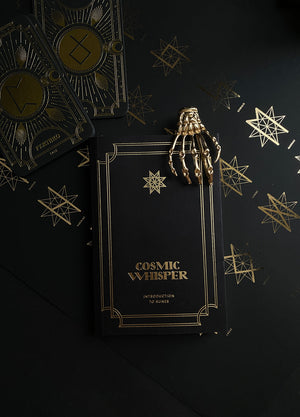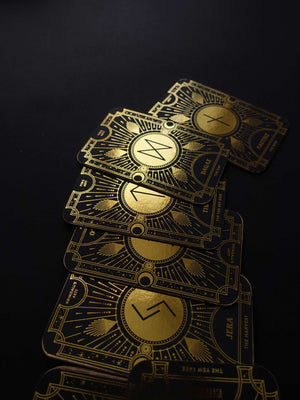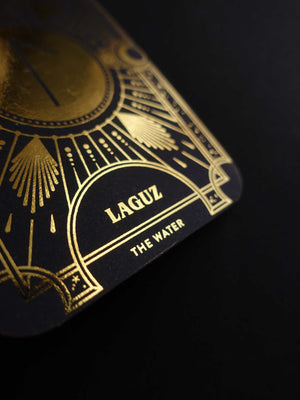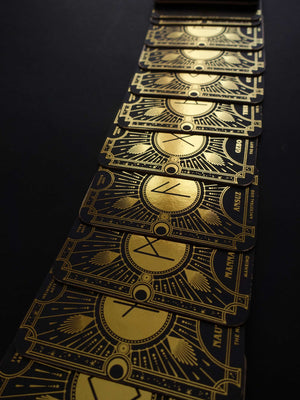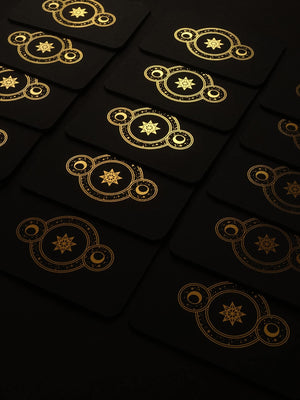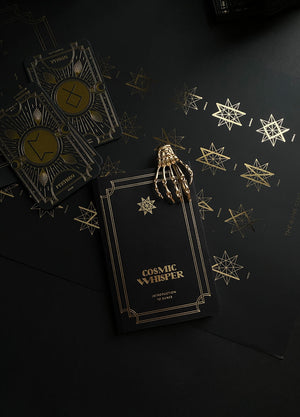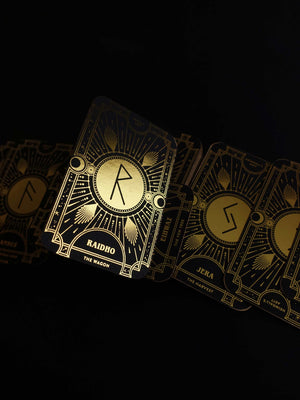 ✦ Eco friendly Ink & recycled materials
✦ Ethically made and sourced
✦ Small run production
✦ FSC Certified
✦ Carbon neutral shipping
✦ Family owned brand


.
.

Thank you so much for all the love!  Editions No1 & No2 are sold out. We are preparing now the editon No3. 
In order to create this deck, we had to implement a unique process, due to its thickness and detailed gold foil. The deck is considered handmade, and due to that each deck is unique and comes with flaws.
 -- 
Runes are almost 2000 years old and are known as the oldest and most powerful alphabet that was also used for magic and divination practices.
With 24 symbols, runes are very accurate; there isn't room for speculation or interpretation as there is with oracles and tarot. They are perfect for a definitive answer, without a lot of contemplation or subjectivity. Each rune has a strong and clean meaning that is easy to remember.
This deck is one of its kind. Runes were often made with stone or wood, connecting them even more to nature. Our deck is one of the very few that has incorporated runes into cards. We have thoughtfully made every decision and chosen every material to resemble the ancient runes, while at the same time staying true to their origins and natural connection.
—
Features : 
Size: Approx. 77 x 121mm (3.03 x 4.7in)
Shipping times: Up to 4 business days.
Paper: Lamination process of 2 different papers, making each card 1000gsm thick and unbendable. Lamination is the process where - in our case - 2 different papers are joined together to create one thick card. 
Special Features: Metallic gold foil on the front and back with a special film that protects the foil making sure this deck will last forever. Lastly, all cards have rounded edges. 
Included: This deck comes in a custom made high-quality black velvet pouch with plenty of space for a rune cloth. The rune cloth is sold separately or in the bundle edition here. Also included, is a booklet with the history and art of runes, how to read them; two page spreads for each rune with their meanings, history, interpretation in general, social, love, financial and health as well as their reversed meanings.