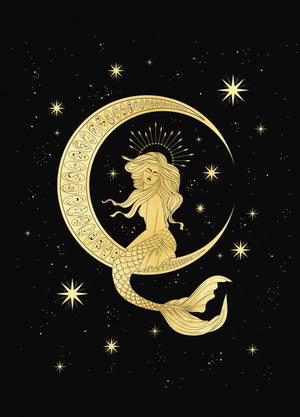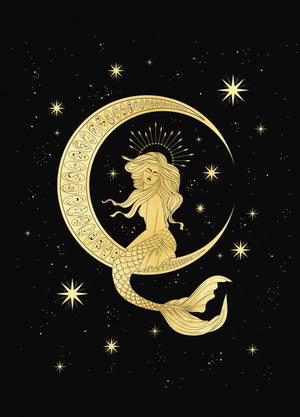 Prints will be available again in a few months. Click on the "Notify me when available" to find out when they'll be back again.
The mermaid is found in all Western countries; she is the German Meriminni or Meerfrau, the Icelandic Marmenill, the Danish Maremind, the Irish Merow and many others, and there are echoes of her story from the East as well. The Matsyanaris, figures sometimes found sculptured in Indian temples, are nymphs with fishes' tails, and superstitious Chinese sailors firmly believe in the existence of similar creatures in the China sea.

Michelangelo created the ultimate role of Siren as seductress in the central image of the ceiling of the Sistine Chapel where in "The Fall of Man and the Expulsion From Paradise" a mermaid-like creature with a female body from the waits up and a snake or fish body from the waist down is shown seducing Adam and Eve.

Significantly, Sirens are creatures of water and water has powerful symbolic value. Water is also a duality, it can sustain life, give comfort and it is a source of life and abundance. Water is the symbol we use for baptism and spiritual rebirth and renewal.

Water, however, can also be destructive, causing inundation, drowning, annihilation and death. Sirens and mermaids embody all of these qualities and meanings and are thus symbols of both death and immortality. They call men to the unknown, to change and transform the essential passage from one space to another, form one condition to another. They serve as escorts during times of transit, danger, transformation, uncertainty, sea voyages and missions of war. Sirens call man, urging him to abandon what he is, to become something new. Fear of Sirens is the fear of upsetting the established equilibrium, fear of the unknown, fear of transformation, fear of learning, fear of losing oneself, fear of being out of control and fear of descending into the deep (the unconscious).
—
Made by us in our Studio
Size: A3 Size (29.7 x 42.0cm), (11.69 x 16.53 inches)
Paper: Cotton Munken Polar 240 gsm.
Features: Metallic Foil
Shipping Package: The Art Print is sent in a thick recycled paper tube, wide enough to keep your print protected. 
Shipping times: Up to 4 business days.
Environment / Safety: FSC-C020637, PEFC_05-33-99, EU Ecolabel : SE/011/05, The paper is inspected for Nordic Ecolabelled printing, ECF, ISO 14001, EMAS,  Age resistant (ISO 9706), Woodfree 
(Frame not included)