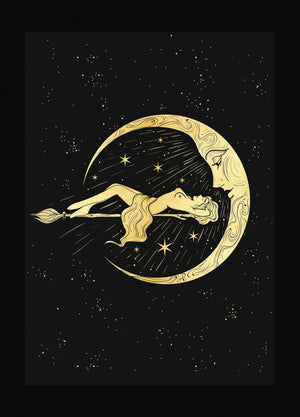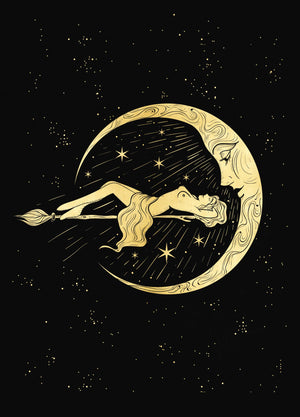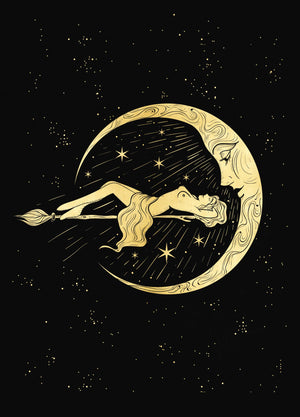 Prints will be available again in a few months. Click on the "Notify me when available" to find out when they'll be back again.
Moonbathing is an ancient Ayurvedic treatment. It refers to basking under the vibrant glow of moonlight. Exposure to moonlight regulates the menstrual cycle, increases fertility, lowers blood pressure and stress levels, reduces stress and anxiety.
The moon is considered to be linked to the left (female) side of the brain, and most especially to the hormonal hub of the pituitary gland, as well as the uterus, breasts, ovaries and menstrual cycle. Like the moon, women's bodies follow a 28-day cycle, and syncing your cycle to the phases of the moon was thought by many cultures to optimize fertility.

Moonlight is the light that reaches the earth, which is reflected light from the sun and some stars. Moonlight originates from the same source as sunlight, but the moon's surface absorbs the harmful UV rays from the sun. The lunar surface reflects that light and it's polarized with the electromagnetic vibrations occurring on the single plane.

Moon is for all seasons: spring, summer, autumn (fall) and winter. Depending on your personal preference you can choose the season for moonbathing:

Spring Moon: Silvery light with greenish tinge; calming and at the same time rejuvenating ambiance

Summer Moon: Yellow light with orange overtones; more pulsating energy along with the refreshed ambiance

Autumn Moon: Mellow light with violet undertones; glowing in calmness and serenity

Winter Moon: Blue to silver; a sense of silence with an echo of silent sound reverberating
—
Made by us in our Studio
Size: A3 Size (29.7 x 42.0cm), (11.69 x 16.53 inches)
Paper: Cotton Munken Polar 240 gsm.
Features: Metallic Foil
Shipping Package: The Art Print is sent in a thick recycled paper tube, wide enough to keep your print protected. 
Shipping times: Up to 5 business days.
Environment / Safety: FSC-C020637, PEFC_05-33-99, EU Ecolabel : SE/011/05, The paper is inspected for Nordic Ecolabelled printing, ECF, ISO 14001, EMAS,  Age resistant (ISO 9706), Woodfree 
(Frame not included)