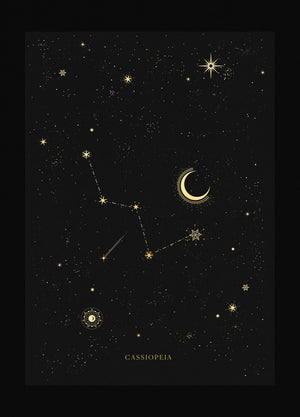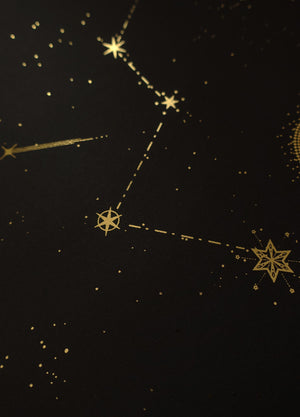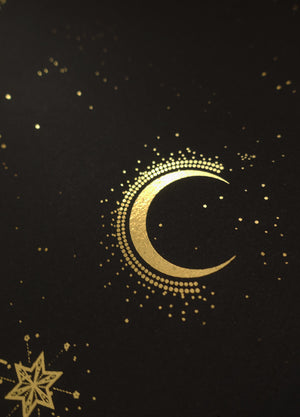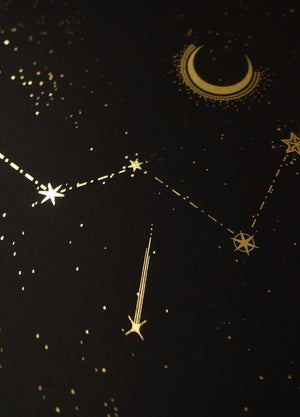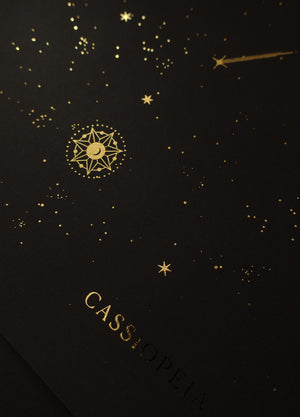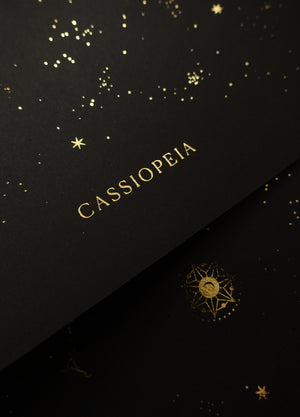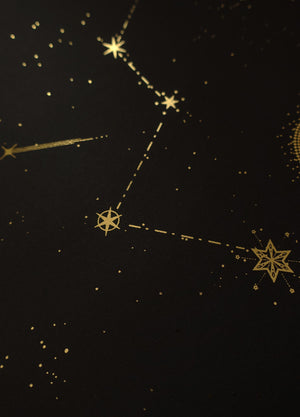 Prints will be available again in a few months. Click on the "Notify me when available" to find out when they'll be back again.
Cassiopeia constellation is located in the northern sky. It was named after Cassiopeia, the vain and boastful queen in Greek mythology.
The constellation was first catalogued by the Greek astronomer Ptolemy in the 2nd century, along with other constellations in the Perseus family (except Lacerta). Cassiopeia is easily recognizable in the sky because of its distinctive W shape.
The constellation contains several notable deep sky objects, among them the open clusters Messier 52 and Messier 103, the Heart Nebula and the Soul Nebula, the supernova remnant Cassiopeia A, the star-forming cloud popularly known as the Pacman Nebula, and the White Rose Cluster.
—
Made by us in our Studio
Size: A3 Size (29.7 x 42.0cm), (11.69 x 16.53 inches) / A4 Size (21.0 × 29.7cm) (8.27 × 11.69 inches)
Paper: Cotton Munken Polar 240 gsm.
Features: Metallic Foil
Shipping Package: The Art Print is sent in a thick recycled paper tube, wide enough to keep your print protected. 
Shipping times: Up to 5 business days.
Environment / Safety: FSC-C020637, PEFC_05-33-99, EU Ecolabel : SE/011/05, The paper is inspected for Nordic Ecolabelled printing, ECF, ISO 14001, EMAS,  Age resistant (ISO 9706), Woodfree 
(Frame not included)