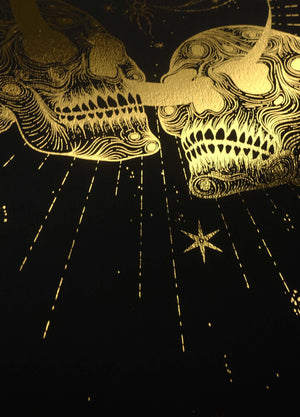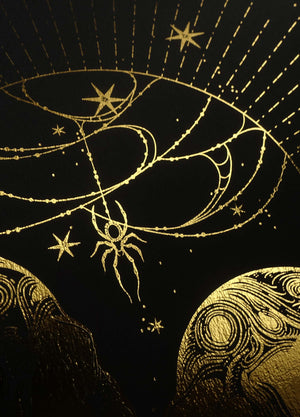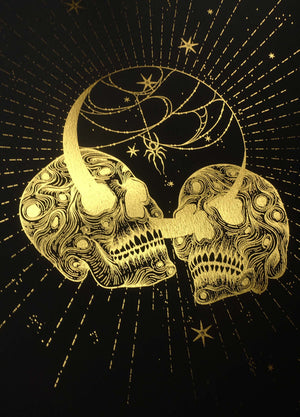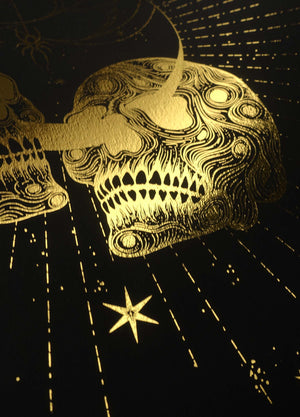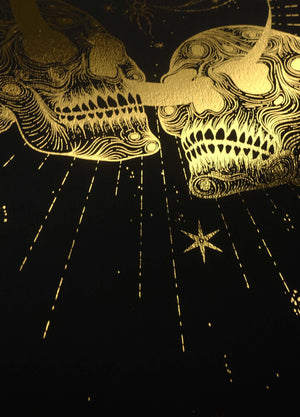 Prints will be available again in a few months. Click on the "Notify me when available" to find out when they'll be back again.
To Buddhists, the skull signifies the definitive truth of impermanence. To followers of Mahayana and Tantric Buddhism, wearing the skull or having a beautiful skull nearby reminds them of the highly valued state of human existence, the incredibly precious nature of the human rebirth – as compared with rebirth in animal or hell realms

The skull is a very auspicious object, because in symbolizing impermanence, it represents an ultimate truth that helps us celebrate our life and at the same time signaling the importance of our life.
—
Made by us in our Studio
Size: A3 Size (29.7 x 42.0cm), (11.69 x 16.53 inches)
Paper: Cotton Munken Polar 240 gsm.
Features: Metallic Foil
Shipping Package: The Art Print is sent in a thick recycled paper tube, wide enough to keep your print protected. 
Shipping times: Up to 5 Business days as each print is made to order.
Environment / Safety: FSC-C020637, PEFC_05-33-99, EU Ecolabel : SE/011/05, The paper is inspected for Nordic Ecolabelled printing, ECF, ISO 14001, EMAS,  Age resistant (ISO 9706), Woodfree 
(Frame not included)