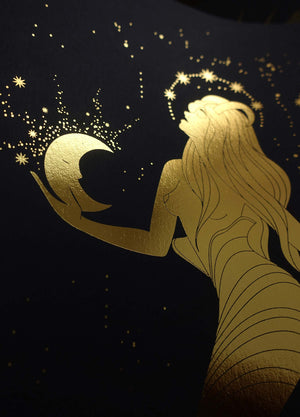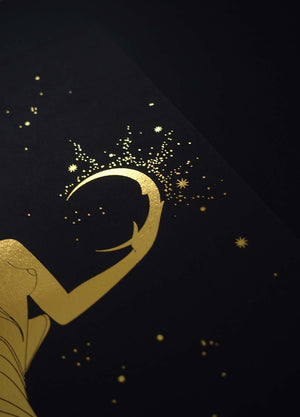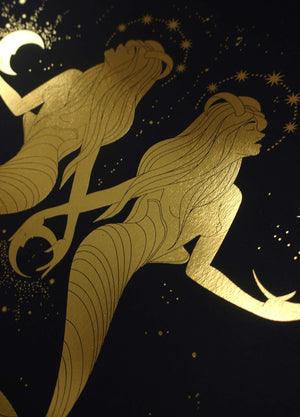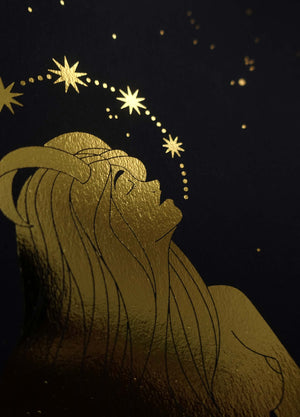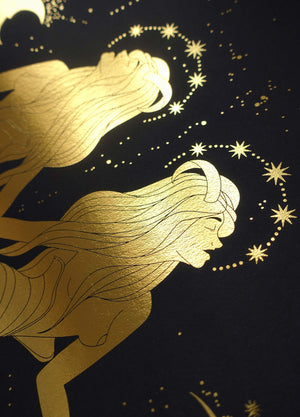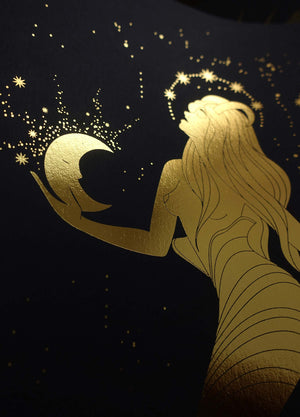 Prints will be available again in a few months. Click on the "Notify me when available" to find out when they'll be back again.
The Naiads were nymphs of fresh water and were one of the three main classes of water nymphs - the others being the Nereids (nymphs of the Mediterranean Sea) and the Oceanids (nymphs of the oceans). The Naiads presided over rivers, streams, brooks, springs, fountains, lakes, ponds, wells, and marshes. They were divided into various subclasses: Crinaeae (fountains), Pegaeae (springs), Eleionomae (marshes), Potameides (rivers), and Limnades or Limnatides (lakes). Roman sources even assigned custody of the rivers of Hades to Naiads classified as Nymphae Infernae Paludis or the Avernales

The Naiad was intimately connected to her body of water and her very existence seems to have depended on it. If a stream dried up, its Naiad expired. The waters over which Naiads presided were thought to be endowed with inspirational, medicinal, or prophetic powers. Whoever drank of these magical waters would be inspired, thus the Naiads were themselves considered prophetic and were frequently worshipped by the ancient Greeks in association with divinities of fertility and growth. Hence all persons in a state of rupture, such as madmen, poets, seers and prophets, were said to be caught by the Nymphs

The genealogy of the Naiads varies according to geographic region and literary source. Naiads were either daughters of Zeus, daughters of various river gods, or simply part of the vast family of the Titan Oceanus. Like all the nymphs, the Naiads were in many ways female sex symbols of the ancient world and played the part of both the seduced and the seducer. Zeus in particular seems to have enjoyed the favors of countless Naiads and the other gods do not seem to have lagged far behind

Naiads were not necessarily considered to be immortal, for they would live and die alongside their water source, so if a spring dried up, the associated Naiad was thought to die. Naiads were also thought to have a finite lifespan, although Plutarch did suggest that this lifespan was 9720 years

Aside from the bringing forth of water, Naiads were also considered protectors of young maidens; additionally, their waters were also often thought to be able to heal or aid in prophecy.
—
Made by us in our Studio
Size: A3 Size (29.7 x 42.0cm), (11.69 x 16.53 inches)
Paper: Cotton Munken Polar 240 gsm.
Features: Metallic Foil
Shipping Package: The Art Print is sent in a thick recycled paper tube, wide enough to keep your print protected. 
Shipping times: Up to 5 business days.
Environment / Safety: FSC-C020637, PEFC_05-33-99, EU Ecolabel : SE/011/05, The paper is inspected for Nordic Ecolabelled printing, ECF, ISO 14001, EMAS,  Age resistant (ISO 9706), Woodfree 
(Frame not included)