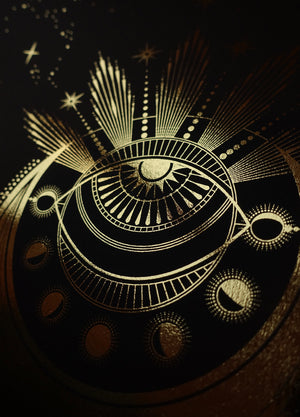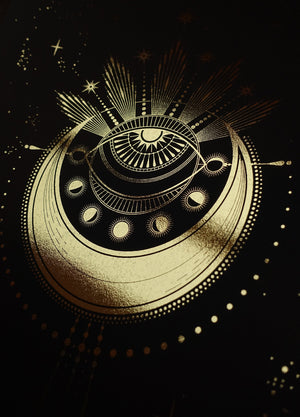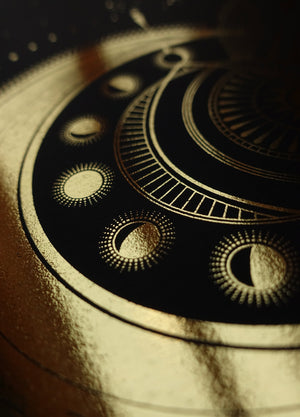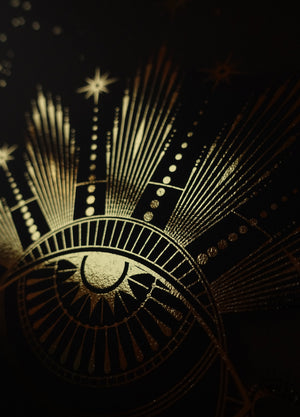 Prints will be available again in a few months. Click on the "Notify me when available" to find out when they'll be back again.
The gate that leads to inner realms and spaces of higher consciousness. The ability to see what might be, to see potential.

Your third eye is the sense, the hunch, the premonition. What our third eye does is process information and then overlay that information over our other senses in such a way we can then interpret and interact with energy in a more precise manner. In this way, we can understand where the energy is, and we can 'see' it.
—
Made by us in our Studio
Size: A3 Size (29.7 x 42.0cm), (11.69 x 16.53 inches)
Paper: Cotton Munken Polar 240 gsm.
Features: Metallic Foil
Shipping Package: The Art Print is sent in a thick recycled paper tube, wide enough to keep your print protected. 
Shipping times: Up to 5 business days.
Environment / Safety: FSC-C020637, PEFC_05-33-99, EU Ecolabel : SE/011/05, The paper is inspected for Nordic Ecolabelled printing, ECF, ISO 14001, EMAS,  Age resistant (ISO 9706), Woodfree 
(Frame not included)