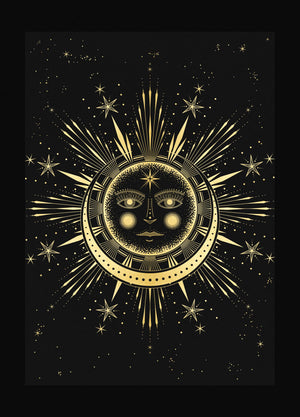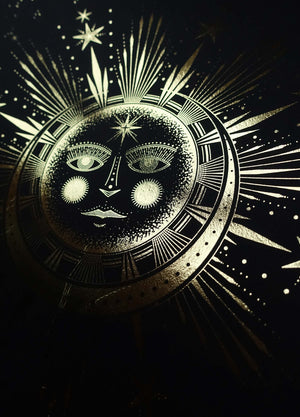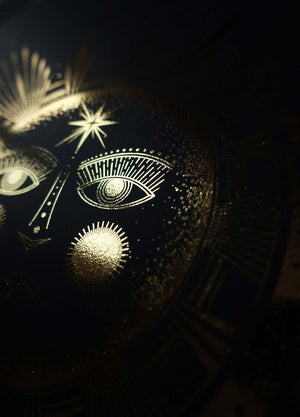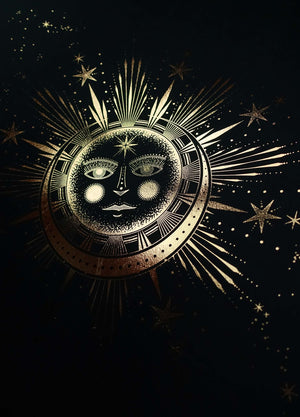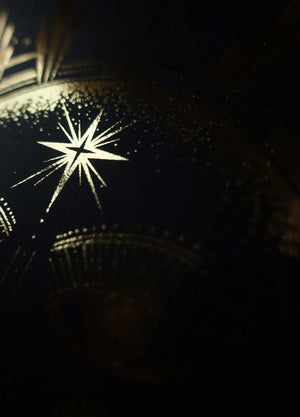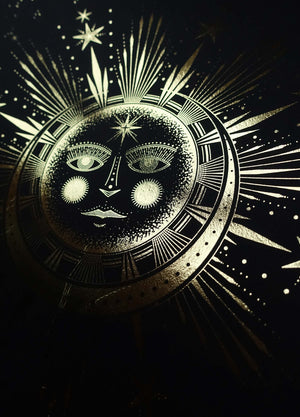 Prints will be available again in a few months. Click on the "Notify me when available" to find out when they'll be back again.
Every culture around the world has a Sun and Moon myth. Some places depict the Sun as female chasing the male Moon around the sky. Some believe the view of Father Sun and Mother Moon comes from the pagan perspectives of Indo-European origins. The Sun (Lugh the god of light and fire) is in love with the mistress of the night Mother Moon who becomes GrandMother Moon once Mother Earth has been born and springs forth life. 

According to the Greek myths associated with the Selene Goddesse, the goddess is paired with the god of the sun. He travels throughout the day and she takes over the journey at night. She is typically considered to be a passionate goddess who takes many lovers and who represents the desire associated with the moon.

From the poem Vafþrúðnismál in the Norse Eddas. The god Odin tasks the jötunn Vafþrúðnir with a question about the origins of the sun and the moon. Vafþrúðnir responds that Mundilfari is the father of both Sól and Máni, and that they must pass through the heavens every day to count the years for man.
—
Made by us in our Studio
Size: A3 Size (29.7 x 42.0cm), (11.69 x 16.53 inches)
Paper: Cotton Munken Polar 240 gsm.
Features: Metallic Foil
Shipping Package: The Art Print is sent in a thick recycled paper tube, wide enough to keep your print protected. 
Shipping times: Up to 5 business days.
Environment / Safety: FSC-C020637, PEFC_05-33-99, EU Ecolabel : SE/011/05, The paper is inspected for Nordic Ecolabelled printing, ECF, ISO 14001, EMAS,  Age resistant (ISO 9706), Woodfree 
(Frame not included)