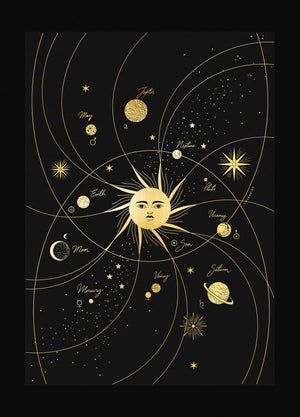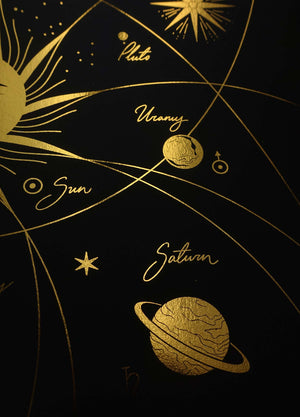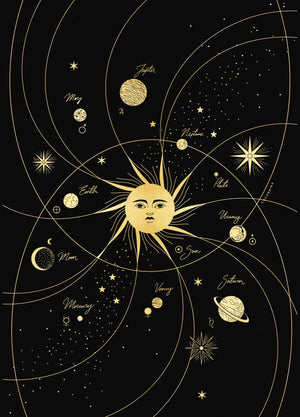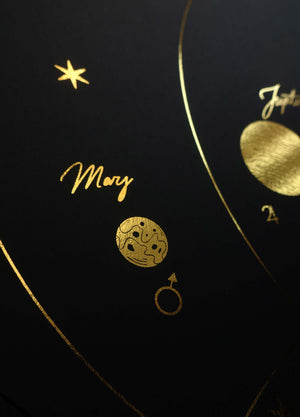 Prints will be available again in a few months. Click on the "Notify me when available" to find out when they'll be back again.
I so often ask myself whether I'd want to travel to space, and I'm so undecided. What about you? Would you travel to the moon or Mars or Pluto if you were given the chance?

I wholeheartedly compare the space with the womb—that dark, safe, quiet place where we are born. Looking up or even imagining floating into space always takes my memories to before I was born, and it makes me feel so peaceful.
—
Made by us in our Studio
Size: A3 Size (29.7 x 42.0cm), (11.69 x 16.53 inches)
Paper: Cotton Munken Polar 240 gsm.
Features: Metallic Foil
Shipping times: Up to 5 business days.
Shipping Package: The Art Print is sent in a thick recycled paper tube, wide enough to keep your print protected.
Environment / Safety: FSC-C020637, PEFC_05-33-99, EU Ecolabel : SE/011/05, The paper is inspected for Nordic Ecolabelled printing, ECF, ISO 14001, EMAS,  Age resistant (ISO 9706), Woodfree
(Frame not included)