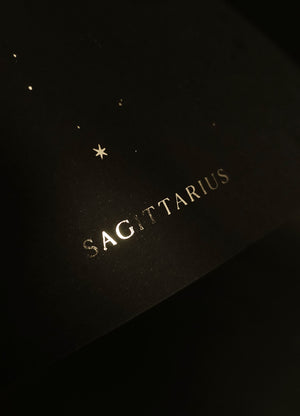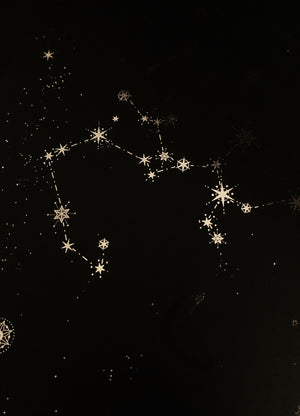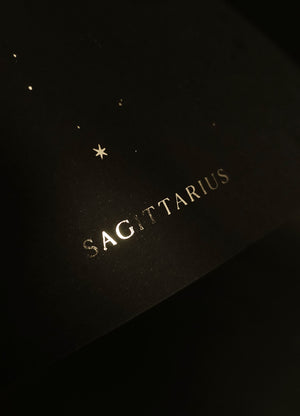 ✦ Eco friendly Ink & recycled materials
✦ Ethically made and sourced
✦ Small run production
✦ FSC Certified
✦ Carbon neutral shipping
✦ Family owned brand


.
.

Prints will be available again in a few months. Click on the "Notify me when available" to find out when they'll be back again.
Occupying 867 square degrees, Sagittarius is the largest constellation in the Southern Hemisphere and the 15th largest constellation overall. The constellation has many bright stars and is very visible with the naked eye.
As is the case with all of the Zodiac constellations, Sagittarius was recorded in the 2nd century by the Greek astronomer Ptolemy, and it is Latin for archer.
Sagittarius is at the center of the Milky Way Galaxy, and the galaxy is at its densest point as it makes its way through Sagittarius.
The Greeks identify Sagittarius as a centaur, horse-human hybrid with the body of a man atop the four legs of a horse. The creature is aiming an arrow toward its neighbor Scorpio. The lore has Sagittarius the Archer shooting Scorpio the Scorpion, which had been sent to kill Orion the Hunter.
—
Made by us in our Studio
Size: A3 Size (29.7 x 42.0cm), (11.69 x 16.53 inches)
Paper: Cotton Munken Polar 240 gsm.
Features: Metallic Foil
Shipping Package: The Art Print is sent in a thick recycled paper tube, wide enough to keep your print protected. 
Shipping times: Up to 5 business days.
Environment / Safety: FSC-C020637, PEFC_05-33-99, EU Ecolabel : SE/011/05, The paper is inspected for Nordic Ecolabelled printing, ECF, ISO 14001, EMAS,  Age resistant (ISO 9706), Woodfree 
(Frame not included)