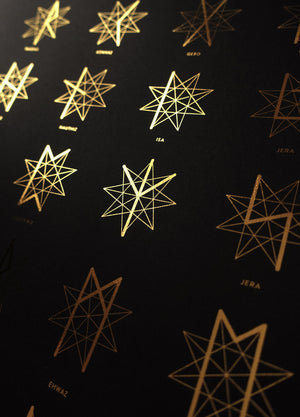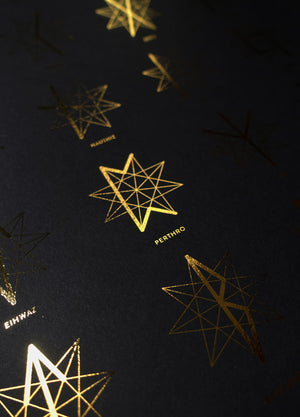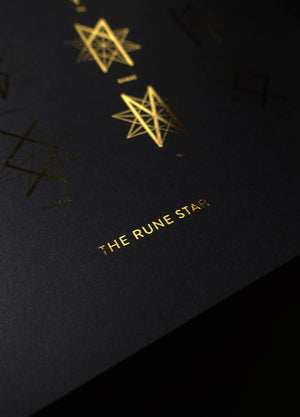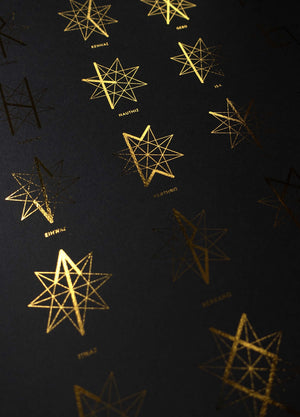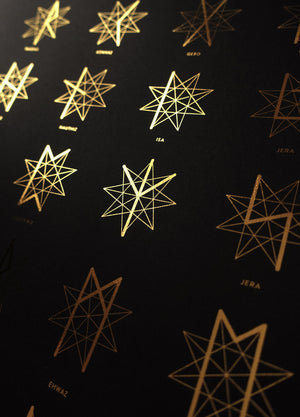 Prints will be available again in a few months. Click on the "Notify me when available" to find out when they'll be back again.
The appearance of the runes goes back to the times of Odin, the god of magic and wisdom. Odin was a man always in search of absolute knowledge, but such knowledge cannot be attained by the simplistic human means provided by the senses. It was because of this fact that Odin had to renounce an eye in order to be able to drink from the spring of wisdom.
He then reversed the human methods of knowledge by mortally hurting himself with a spear and hanging down from a tree in a cold region for two days and two nights. The 18 magical runes were revealed to him when death was drawing near. The images of these runes were spread across the land by the god who had conquered death and their number increased to 24.
The Futhark alphabet was derived from the runes, but the runes themselves kept their magical properties. They were used to contact the dead, for protection, or for flight. Runes were also used for divination and as a means of contacting other plains of existence. Runes can be drawn on wood (especially oak wood, beech wood, or pine wood), bone, shells, paper, or stone (especially quartz). By manually drawing or carving the runes, a stronger connection is created than using runes made by others.
—
Made by us in our Studio
Size: A3 Size (29.7 x 42.0cm), (11.69 x 16.53 inches)
Paper: Cotton Munken Polar 240 gsm.
Features: Metallic Foil
Shipping Package: The Art Print is sent in a thick recycled paper tube, wide enough to keep your print protected. 
Shipping times: Up to 5 business days.
Environment / Safety: FSC-C020637, PEFC_05-33-99, EU Ecolabel : SE/011/05, The paper is inspected for Nordic Ecolabelled printing, ECF, ISO 14001, EMAS,  Age resistant (ISO 9706), Woodfree 
(Frame not included)