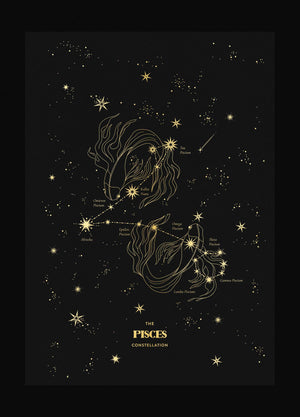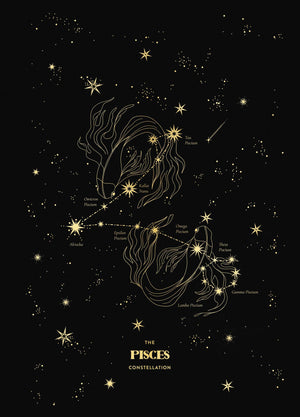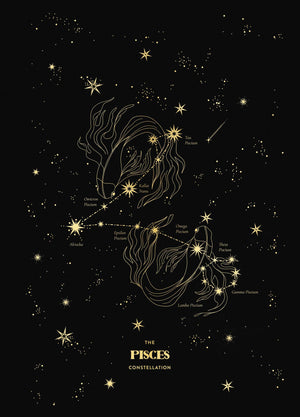 Prints will be available again in a few months. Click on the "Notify me when available" to find out when they'll be back again.
Venus and her son Cupid while sitting on the bank of the Euphrates suddenly saw Typhon, the enemy of the Gods, approaching them. They leaped into the river and were saved from drowning by two fishes, who were afterward placed in the heavens by Venus in gratitude for their help. In another version of mythology, the constellation of Pisces is represented by two fish bound together with a piece of string. According to one Greek myth, Pisces represents the fish into which Aphrodite and her son Eros transformed in order to escape the monstrous Typhon; they are tied together with a cord on their tails, to make sure they do not lose one another. It is also said that Pan changed himself into a goat-fish (Capricorn) and jumped into the river to save them.

The constellation was thus known as Venus et Cupido, Venus Syria cum Cupidine, Venus cum Adone, Dione, and Veneris Mater; and it has been Ourania and Urania, the Sarmatian Aphrodite.

The fish, shooting upwards to the Polar Star, exquisitely pictures this "heavenly calling"; while the other fish, keeping on the horizontal line, answers to those who were content with an earthly portion.
—
Made by us in our Studio
Size: A3 Size (29.7 x 42.0cm), (11.69 x 16.53 inches)
Paper: Cotton Munken Polar 240 gsm.
Features: Metallic Foil
Shipping Package: The Art Print is sent in a thick recycled paper tube, wide enough to keep your print protected. 
Shipping times: Up to 5 business days.
Environment / Safety: FSC-C020637, PEFC_05-33-99, EU Ecolabel : SE/011/05, The paper is inspected for Nordic Ecolabelled printing, ECF, ISO 14001, EMAS,  Age resistant (ISO 9706), Woodfree 
(Frame not included)