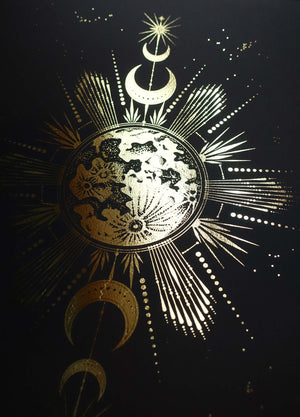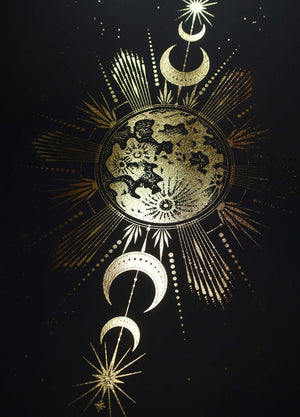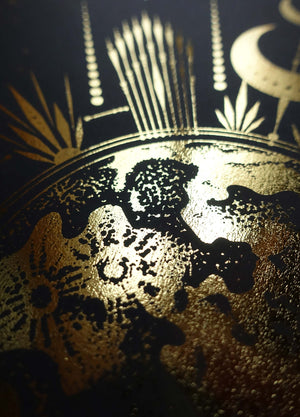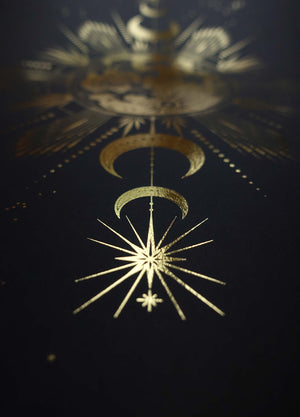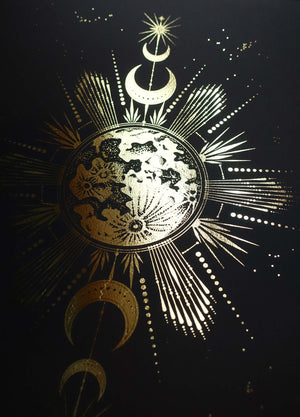 Prints will be available again in a few months. Click on the "Notify me when available" to find out when they'll be back again.
The longest night of the year. It represents the end of a cycle and the beginning of a new period of increased light and growth. At the Feast of Yule, people lit fires to symbolize the heat and light of the returning sun. A Yule log was burned on the hearth to honor the god Thor. The ashes of the burned log were collected and were strewn on the fields to promote fertility every night until Twelfth Night.

The longest night of the year gives us an opportunity to investigate the darkness as well as to look toward the light.
—
Made by us in our Studio
Size: A3 Size (29.7 x 42.0cm), (11.69 x 16.53 inches)
Paper: Cotton Munken Polar 240 gsm.
Features: Metallic Foil
Shipping Package: The Art Print is sent in a thick recycled paper tube, wide enough to keep your print protected. 
Shipping times: Up to 5 business days.
Environment / Safety: FSC-C020637, PEFC_05-33-99, EU Ecolabel : SE/011/05, The paper is inspected for Nordic Ecolabelled printing, ECF, ISO 14001, EMAS,  Age resistant (ISO 9706), Woodfree 
(Frame not included)