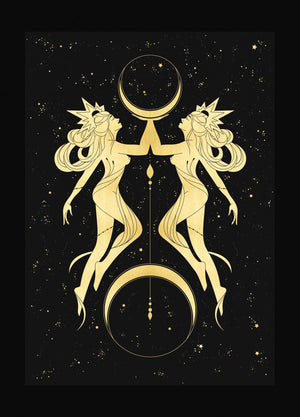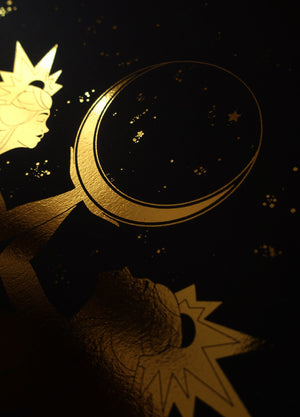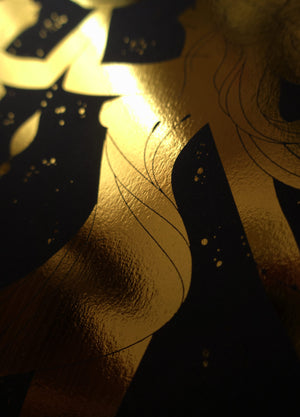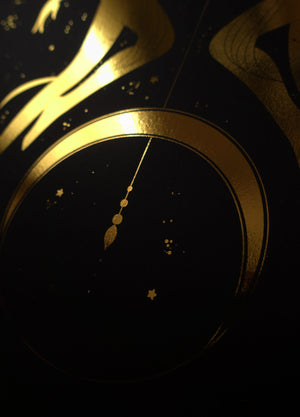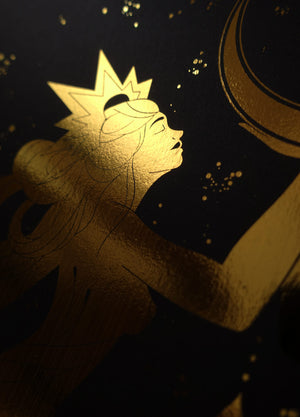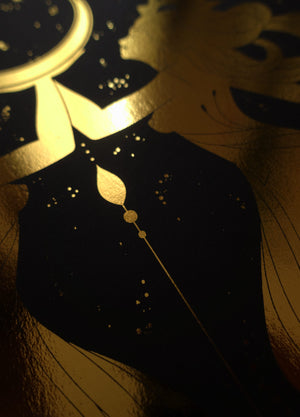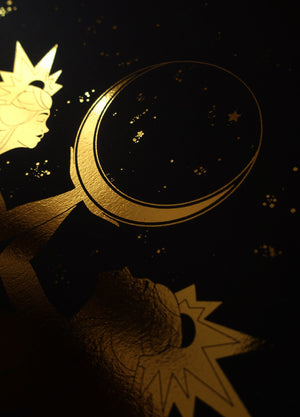 Prints will be available again in a few months. Click on the "Notify me when available" to find out when they'll be back again.
Gemini is a zodiacal constellation representing the twin brothers Castor and Pollux. Both were mothered by Leda, and were, therefore, brothers of Helen, but they had different fathers: In one night, Leda was made pregnant both by Jupiter in the form of a swan and by her husband, the king Tyndarus of Sparta. Pollux, as the son of a god, was immortal and was renowned for his strength, while his mortal brother Castor was famous for his skill with horses. Both brothers voyaged in search of the Golden Fleece as Argonauts, and then fought in the Trojan War to bring their sister home to her husband Menelaus. They are traditionally depicted as armed with spears and riding a matched pair of snow-white horses.
The most common explanation for their presence in the heavens is that Pollux was overcome with sorrow when his mortal brother died, and begged Jupiter to allow him to share his immortality. Jupiter, acknowledging the heroism of both brothers, consented and reunited the pair in the heavens.
Castor and Pollux were unique among those placed in the sky in that they are not represented merely as a constellation but as actual stars which mark the twin's heads in the constellation. Castor is a bright white binary star, while Pollux is orange. They may be found between Cancer and Taurus.
—
Made by us in our Studio
Size: A3 Size (29.7 x 42.0cm), (11.69 x 16.53 inches)
Paper: Cotton Munken Polar 240 gsm.
Features: Metallic Foil
Shipping Package: The Art Print is sent in a thick recycled paper tube, wide enough to keep your print protected. 
Shipping times: Up to 5 business days.
Environment / Safety: FSC-C020637, PEFC_05-33-99, EU Ecolabel : SE/011/05, The paper is inspected for Nordic Ecolabelled printing, ECF, ISO 14001, EMAS,  Age resistant (ISO 9706), Woodfree 
(Frame not included)