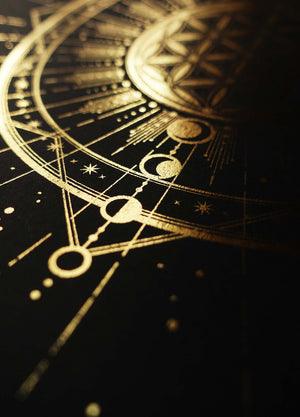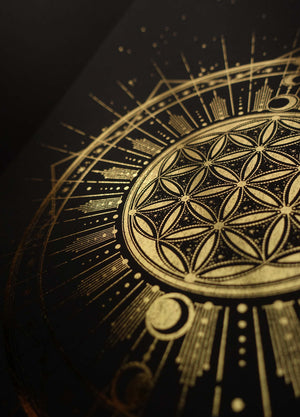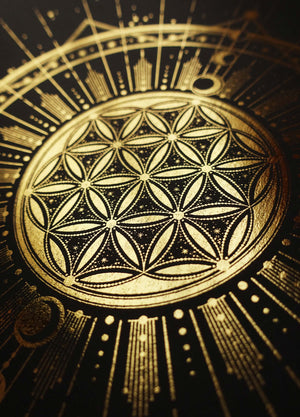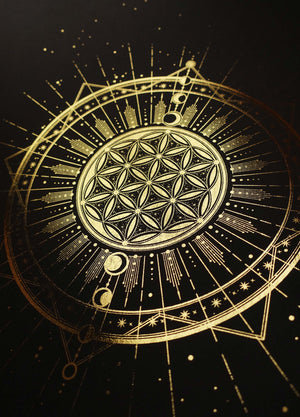 Prints will be available again in a few months. Click on the "Notify me when available" to find out when they'll be back again.
The Flower of Life consists of six circles that intersect, all contained in a larger seventh circle. This combination creates a complex series of ellipses and rings that reminds some people of the molecular patterns that form in crystals like common table salt and quartz.

This mystical symbol can be found in almost all major religions in the entire world. The Flower of Life is said to be over 6,000 years old. The earliest record of this symbol was said to be found on the alabaster steps that were once parts of the palace of King Ashurbanipal and has been dated to 645 BC. Leonardo Da Vinci put his considerable intelligence to the task of exploring the Flower of Life, but he didn't crack its codes in the end.

It is believed that there is a secret symbol embedded within the Flower of Life. This symbol is said to hold the most important and most sacred patterns of the universe and is the harbinger of all life and existence, from molecules and atoms to planets and galaxies.
—
Made by us in our Studio
Size: A3 Size (29.7 x 42.0cm), (11.69 x 16.53 inches)
Paper: Cotton Munken Polar 240 gsm.
Features: Metallic Foil
Shipping Package: The Art Print is sent in a thick recycled paper tube, wide enough to keep your print protected. 
Shipping times: Up to 5 business days.
Environment / Safety: FSC-C020637, PEFC_05-33-99, EU Ecolabel : SE/011/05, The paper is inspected for Nordic Ecolabelled printing, ECF, ISO 14001, EMAS,  Age resistant (ISO 9706), Woodfree 
(Frame not included)