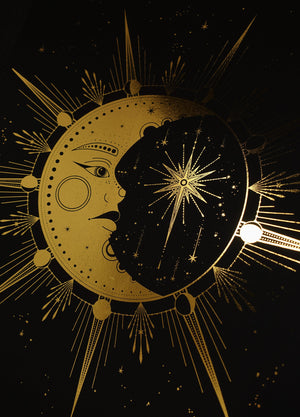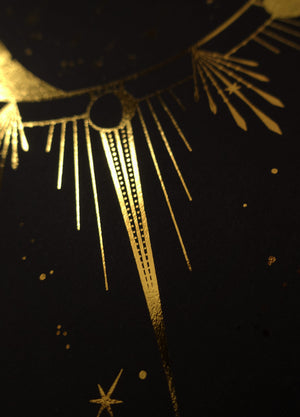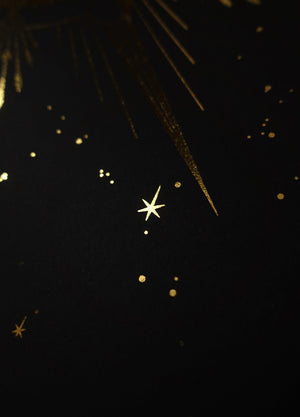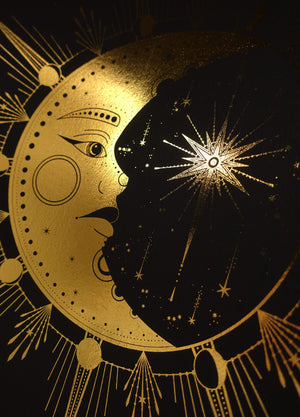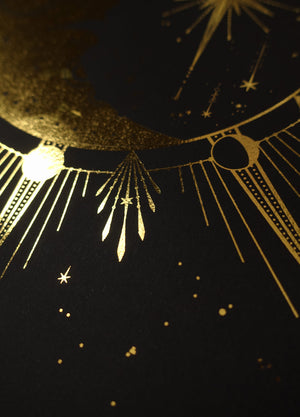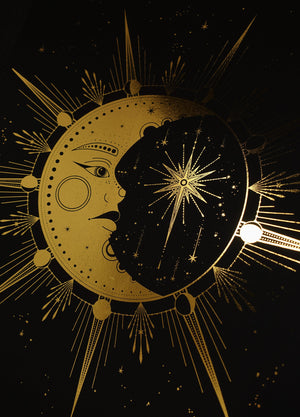 Prints will be available again in a few months. Click on the "Notify me when available" to find out when they'll be back again.
"Silver-sickled, celestial, circling satellite suspended in star-slung, far-flung skies.
Full-bellied billowing, voluminously glittering, luminously glistering in lunatics' eyes.
The thrice-spinning moon threads stories through time spun with the world-wending wisdom of old.

Prophesying poetry: there is magic in words; the weather-witch speaks of secrets foretold".
'Lunar Lore' by Kirstin Mills
—
Made by us in our Studio
Size: A3 Size (29.7 x 42.0cm), (11.69 x 16.53 inches)
Paper: Cotton Munken Polar 240 gsm.
Features: Metallic Foil
Shipping Package: The Art Print is sent in a thick recycled paper tube, wide enough to keep your print protected. 
Shipping times: Up to 5 business days.
Environment / Safety: FSC-C020637, PEFC_05-33-99, EU Ecolabel : SE/011/05, The paper is inspected for Nordic Ecolabelled printing, ECF, ISO 14001, EMAS,  Age resistant (ISO 9706), Woodfree 
(Frame not included)