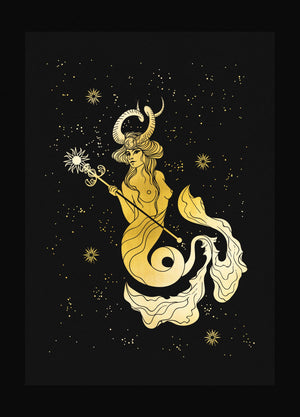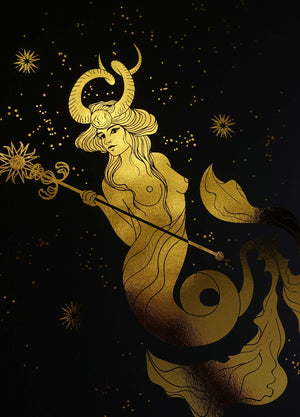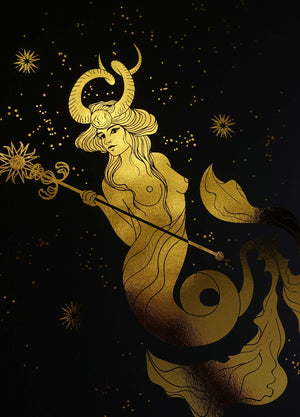 Prints will be available again in a few months. Click on the "Notify me when available" to find out when they'll be back again.
Capricorn is usually depicted as a goat or sea-goat, but in Greek Mythology he is the God Pan. Pan ruled over forests and woodlands, flocks and shepherds. From the waist down he was a goat and also had the ears and horns of a goat, and from the waist up he was a man. He was a horny little guy and was always trying to catch a nymph, who would flee because of his appearance. He, eventually, became the God of Nature, and some of his qualities, such as sexuality and love of nature have become part of the character of people born under this sign.



—
Made by us in our Studio
Size: A3 Size (29.7 x 42.0cm), (11.69 x 16.53 inches)
Paper: Cotton Munken Polar 240 gsm.
Features: Metallic Foil
Shipping times: Up to 5 business days.

Shipping Package: The Art Print is sent in a thick recycled paper tube, wide enough to keep your print protected. 
Environment / Safety: FSC-C020637, PEFC_05-33-99, EU Ecolabel : SE/011/05, The paper is inspected for Nordic Ecolabelled printing, ECF, ISO 14001, EMAS,  Age resistant (ISO 9706), Woodfree 
(Frame not included)