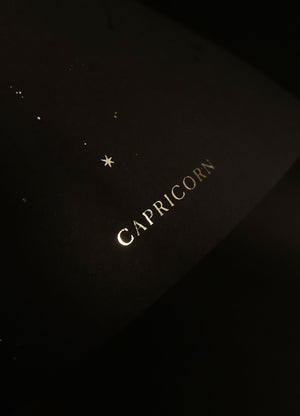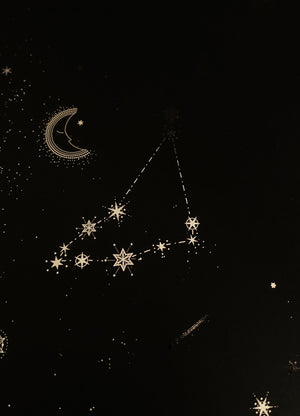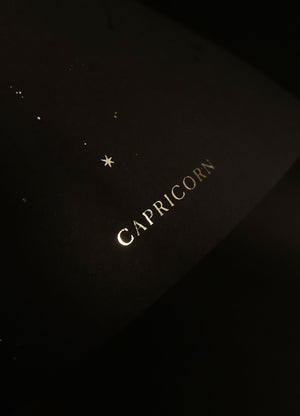 Prints will be available again in a few months. Click on the "Notify me when available" to find out when they'll be back again.
Located in the Southern Hemisphere, Capricornus represents a creature that is a blend of fish and goat; the name means "goat horn" in Latin. While it is one of the Zodiac constellations identified by the Greek astronomer Ptolemy in the 2nd century, Capricornus is often used when referring to the constellation, while Capricorn is used in conjunction with the sign of the Zodiac.
Capricornus is among the faintest constellations, just brighter than Cancer. The 40th largest constellation, Capricornus measures 414 square degrees. It sits among the other constellations of the water genre, including the water-bearer Aquarius, the whale-like sea monster Cetus, the fishes Pisces, and the river Eridanus.
The Greeks associate the constellation with Pan, the god of nature. Part of Pan's lore was that he helped Zeus fight the Titans to earn his spot in the heavens. He escaped the monster Typhon by jumping into the Nile, but only half of his body was submerged, so he was a fish in the part of his body that remained underwater.
—
Made by us in our Studio
Size: A3 Size (29.7 x 42.0cm), (11.69 x 16.53 inches)
Paper: Cotton Munken Polar 240 gsm.
Features: Metallic Foil
Shipping Package: The Art Print is sent in a thick recycled paper tube, wide enough to keep your print protected. 
Shipping times: Up to 5 business days.
Environment / Safety: FSC-C020637, PEFC_05-33-99, EU Ecolabel : SE/011/05, The paper is inspected for Nordic Ecolabelled printing, ECF, ISO 14001, EMAS,  Age resistant (ISO 9706), Woodfree 
(Frame not included)