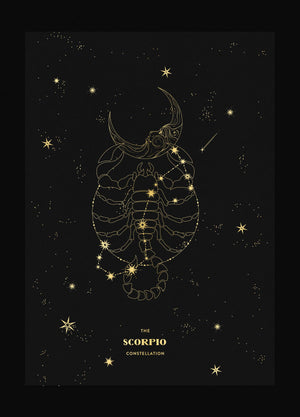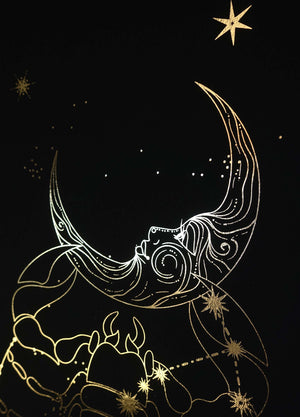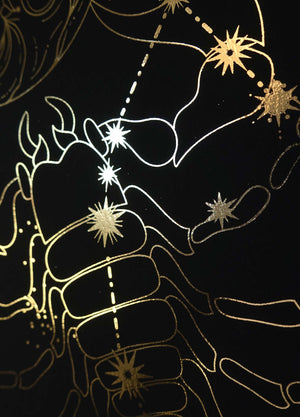 To all my mysterious, deep and passionate Scorpios, this the month that we celebrate you
The Greek scorpion was in two halves: one half, called Σκορπίος (Skorpios), contained its body and sting, while the front half comprised the claws. In the first century BC, the Romans made the claws into a separate constellation, Libra, the balance
Scorpio, in Greek Mythology, comes from the story of Orion. This giant of a man was the son of Poseidon and Euryale and was also said to be the most handsome man alive. He and Artemis were hunting partners, which made her brother, Apollo, jealous. He went to Gaia and asked her to create a giant scorpion, which then stung and killed Orion. Zeus placed both of them in the heavens as a constellation. Scorpion is a pretty big constellation. The bright star, Antares, is the Scorpion's heart.
The brightest star in Scorpius is brilliant Antares, from the Greek word Ἀντάρης, meaning 'like Mars,' on account of its intense reddish-orange color, similar to that of the planet Mars
According to Astrology, Scorpio is a water sign, and the traits of those born under the sign include determination and loyalty.
—
Made by us in our Studio
Size: A3 Size (29.7 x 42.0cm), (11.69 x 16.53 inches)
Paper: Cotton Munken Polar 240 gsm.
Features: Metallic Foil
Shipping times: Up to 5 business days.
Shipping Package: The Art Print is sent in a thick recycled paper tube, wide enough to keep your print protected. 
Environment / Safety: FSC-C020637, PEFC_05-33-99, EU Ecolabel : SE/011/05, The paper is inspected for Nordic Ecolabelled printing, ECF, ISO 14001, EMAS,  Age resistant (ISO 9706), Woodfree 
(Frame not included)