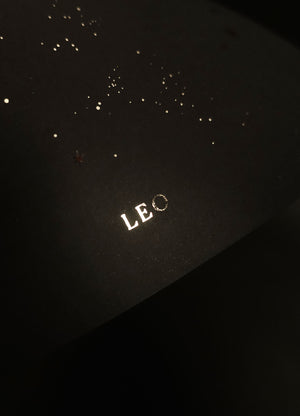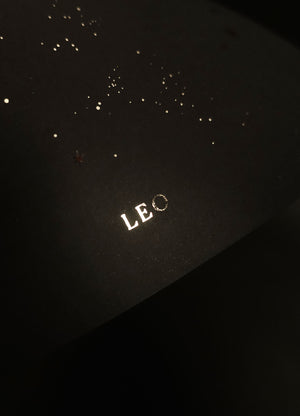 ✦ Eco friendly Ink & recycled materials
✦ Ethically made and sourced
✦ Small run production
✦ FSC Certified
✦ Carbon neutral shipping
✦ Family owned brand


.
.

Prints will be available again in a few months. Click on the "Notify me when available" to find out when they'll be back again.
Leo the Lion is one of the earliest recognized constellations. The Mesopotamians are known to have documented the "lion" constellation. The Persians called it Ser or Shir; the Turks, Artan; the Syrians, Aryo; the Jewish, Arye; the Indians, Simha. These are all translated as "lion."
Leo is a highly recognizable constellation, as it is one of the few constellations that resemble its namesake. It is fairly easy to find because the "pointer stars" of the Big Dipper point to Leo.
The brightest star in the curve of the sickle is Al Geiba, which means "the lion's mane." In January 2001, a large object eight times the size of Jupiter was discovered orbiting Al Geiba. A triangle of stars forms the lion's haunches. The brightest star of this trio is Denebola, which means "tail of the lion."
—
Made by us in our Studio
Size: A3 Size (29.7 x 42.0cm), (11.69 x 16.53 inches)
Paper: Cotton Munken Polar 240 gsm.
Features: Metallic Foil
Shipping Package: The Art Print is sent in a thick recycled paper tube, wide enough to keep your print protected. 
Shipping times: Up to 5 business days.
Environment / Safety: FSC-C020637, PEFC_05-33-99, EU Ecolabel : SE/011/05, The paper is inspected for Nordic Ecolabelled printing, ECF, ISO 14001, EMAS,  Age resistant (ISO 9706), Woodfree 
(Frame not included)