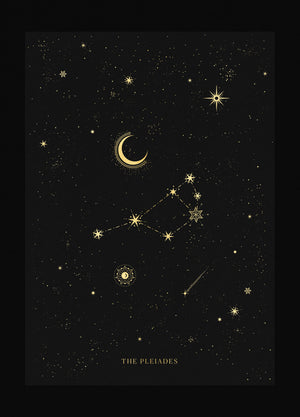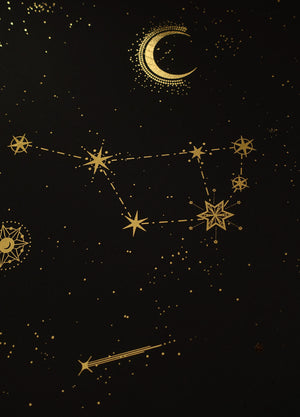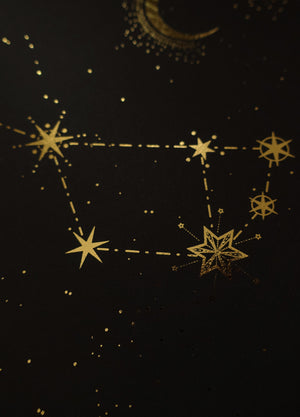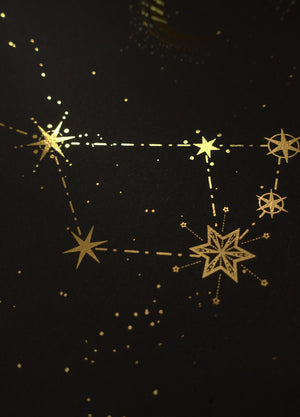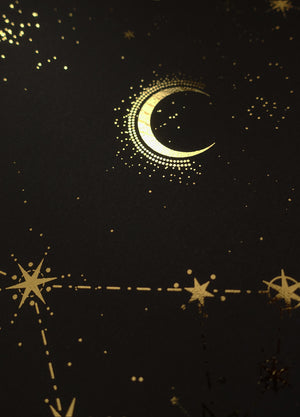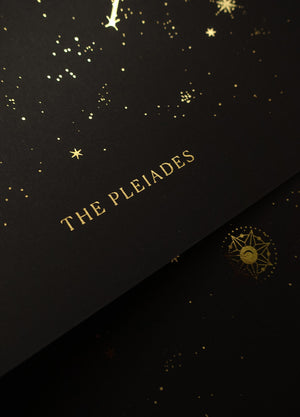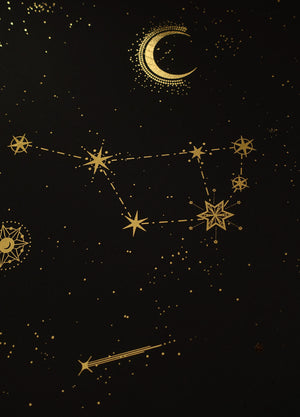 ✦ Eco friendly Ink & recycled materials
✦ Ethically made and sourced
✦ Small run production
✦ FSC Certified
✦ Carbon neutral shipping
✦ Family owned brand


.
.

Prints will be available again in a few months. Click on the "Notify me when available" to find out when they'll be back again.
The Pleiades star cluster, also known as the Seven Sisters and Messier 45, is a conspicuous object in the night sky with a prominent place in ancient mythology. The cluster contains hundreds of stars, of which only a handful are commonly visible to the unaided eye. The stars in the Pleiades are thought to have formed together around 100 million years ago, making them 1/50th the age of our sun, and they lie some 130 parsecs (425 light years) away.
From our perspective they appear in the constellation of Taurus, with approximate celestial coordinates of 3 hours 47 minutes right ascension and +24 degrees declination. For northern hemisphere viewers, the cluster is above and to the right of Orion the Hunter as one faces south, and it transits -- reaches its highest point in the sky, midway between rising and setting -- around 4am in September, midnight in November, and 8pm in January.
—
Made by us in our Studio
Size: A3 Size (29.7 x 42.0cm), (11.69 x 16.53 inches) / A4 Size (21.0 × 29.7cm) (8.27 × 11.69 inches)
Paper: Cotton Munken Polar 240 gsm.
Features: Metallic Foil
Shipping Package: The Art Print is sent in a thick recycled paper tube, wide enough to keep your print protected. 
Shipping times: Up to 5 business days.
Environment / Safety: FSC-C020637, PEFC_05-33-99, EU Ecolabel : SE/011/05, The paper is inspected for Nordic Ecolabelled printing, ECF, ISO 14001, EMAS,  Age resistant (ISO 9706), Woodfree 
(Frame not included)