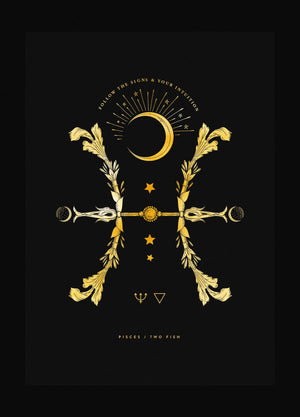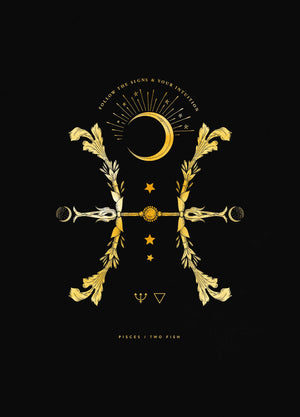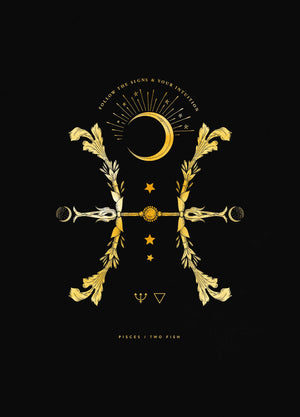 Prints will be available again in a few months. Click on the "Notify me when available" to find out when they'll be back again.
Pisces is ruled by Neptune, the celestial body that governs creativity and dreams, and these ethereal fish adore exploring their boundless imaginations. In its more nefarious form, however, Neptune also oversees illusion and escapism. Neptunian energy is like the energy of the ocean: magical, mysterious, and often scary. When the fog is thick on the water, the horizon is obstructed and there is no differentiation between the sea and the sky.
Those with this sun sign must be wary of mirages: These impressionable fish prefer wearing rose-colored glasses to addressing problems, which can earn Pisces a reputation for being flaky or delusional. This water sign should remember that problems can't be solved by swimming away. Willful ignorance never makes conflict disappear: It only gives it the chance to grow.
—
Made by us in our Studio
Size: A3 Size (29.7 x 42.0cm), (11.69 x 16.53 inches)
Paper: Cotton Munken Polar 240 gsm.
Features: Metallic Foil
Shipping times: Up to 4 business days.

Shipping Package: The Art Print is sent in a thick recycled paper tube, wide enough to keep your print protected. 
Environment / Safety: FSC-C020637, PEFC_05-33-99, EU Ecolabel : SE/011/05, The paper is inspected for Nordic Ecolabelled printing, ECF, ISO 14001, EMAS,  Age resistant (ISO 9706), Woodfree 
(Frame not included)