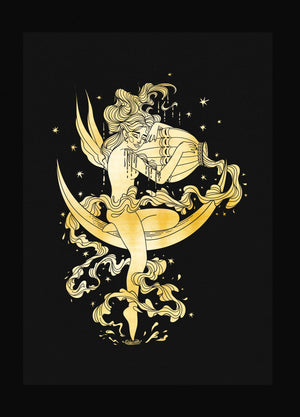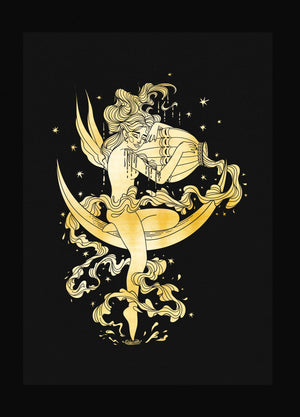 Prints will be available again in a few months. Click on the "Notify me when available" to find out when they'll be back again.
Aquarius is a member of the Zodiac, a group of constellations that the Sun travels through each year. It is best viewed in the fall in the southern sky, although much of the northern hemisphere can see the Waterbearer in the spring. Aquarius is one of the oldest constellations in the sky.
The Sumerians also believed that Aquarius brought on a sort of global flood. Also, many of the stars that make up Aquarius have names that refer to good luck. This is most likely due to the time of year when the Sun would rise in Aquarius. It happened to be at the same time when the rainy season began in the Middle East.

There are three globular clusters in Aquarius that may be viewed through a small telescope. The planetary nebula, named the Saturn Nebula, is also in the Waterbearer.. It is so named because it looks like the planet Saturn when viewed through a telescope. The closest and brightest planetary nebula is the Helix Nebula, located directly east of the "foot".
—
Made by us in our Studio, frame is not included.
Size: A3 Size (29.7 x 42.0cm), (11.69 x 16.53 inches)
Paper: Cotton Munken Polar 240 gsm.
Features: Metallic Gold or Silver Foil.
Shipping times: Up to 4 business days.

Shipping Package: The Art Print is sent in a thick recycled paper tube, wide enough to keep your print protected. 
Environment / Safety: FSC-C020637, PEFC_05-33-99, EU Ecolabel : SE/011/05, The paper is inspected for Nordic Ecolabelled printing, ECF, ISO 14001, EMAS,  Age resistant (ISO 9706), Woodfree 
(Frame not included)