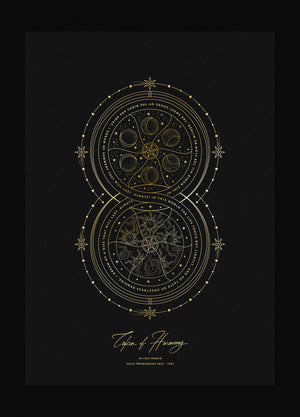 ✦ Eco friendly Ink & recycled materials
✦ Ethically made and sourced
✦ Small run production
✦ FSC Certified
✦ Carbon neutral shipping
✦ Family owned brand


.
.

Prints will be available again in a few months. Click on the "Notify me when available" to find out when they'll be back again.
Specially created to celebrate the date 22.2.22 and the duality, and symbolism of the number 2. The number two is associated with emotions, intuition, and unity, specifically when it comes to your close connections. This number is influenced by planet Moon. The repetition of the number 2 can be seen to represent life choices and harmony.
The date itself is symmetrical, as we can read it backwards too. It signifies a moment of alignment, a portal of stepping into a new level of ascension. This is your opportunity for you to allow other people around you to affirm the desires and decisions you are making.
The Harmony knot is bonded with the poem "In this World" by French poet Sully Prudhomme (1839-1907). The extract poem reads: 
" In this world all the flowers wither,
The sweet songs of the birds are brief;
I dream of summers that will last
Always!

In this world the lips touch but
lightly, And no taste of sweetness
remains;
I dream of a kiss that will last
Always
—
Made by us in our Studio
Size: A3 Size (29.7 x 42.0cm), (11.69 x 16.53 inches)
Paper: Cotton Munken Polar 240 gsm.
Features: Metallic Foil
Shipping Package: The Art Print is sent in a thick recycled paper tube, wide enough to keep your print protected. 
Environment / Safety: FSC-C020637, PEFC_05-33-99, EU Ecolabel : SE/011/05, The paper is inspected for Nordic Ecolabelled printing, ECF, ISO 14001, EMAS,  Age resistant (ISO 9706), Woodfree 
(Frame not included)