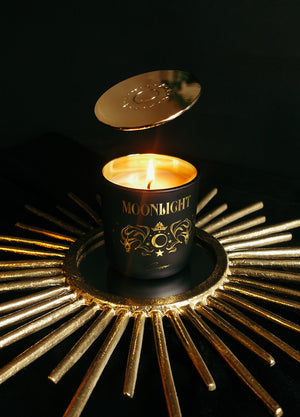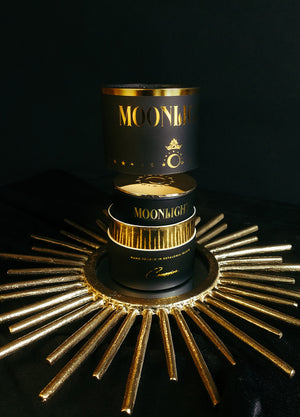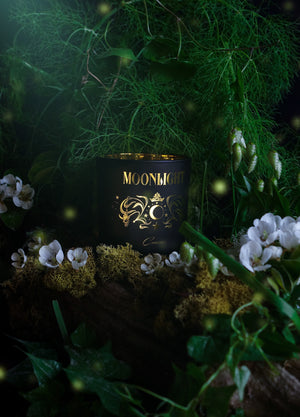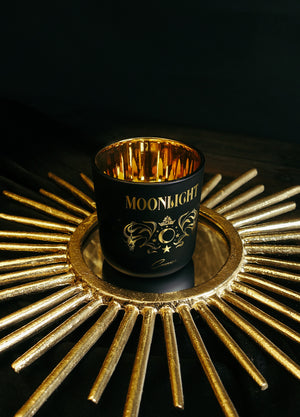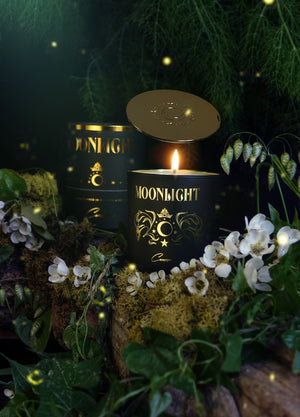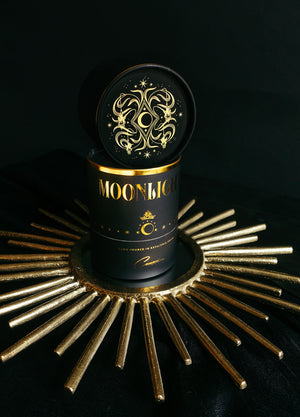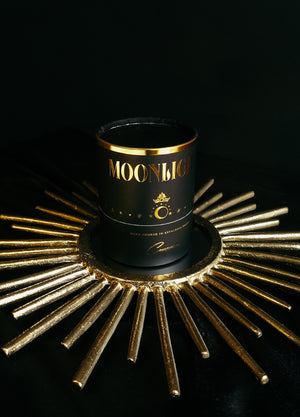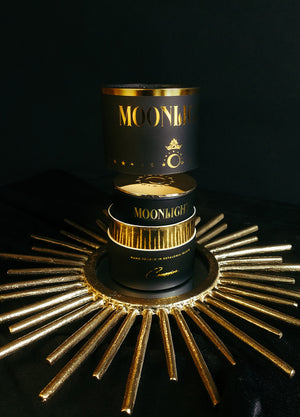 ✦ Eco friendly Ink & recycled materials
✦ Ethically made and sourced
✦ Small run production
✦ FSC Certified
✦ Carbon neutral shipping
✦ Family owned brand


.
.

"WALK BAREFOOT UNDER
THE MOONLIGHT"

NOTE: DOES NOT SHIP TO USA AND CANADA
Close your eyes, and imagine yourself walking barefoot in a forest: owls, crickets, and friendly creatures shuffling the leaves around you. There's a meadow, and you sit there as you absorb the full moon's light. 

With months in the making, our signature candle is here in a limited and numbered edition. Made with all 100% pure and organic soy wax, the candle captures the moonlight in one scent.

The candle comes in a cylindrical black box with gold foil and a black glass jar using the most luxurious ingredients and contents. The jar has a golden mirror effect on the inside and closes with a golden heavy metal lid that has embossed the candle's symbol.

Once the candle has been all burnt, wash the inside with warm water and use it as a tea light candle holder. These candles, aroma blends and pouring all done are made us -Theo specifically- in Kefalonia. 
Complete the Moonlight collection with the Moonlight Aroma print - an extended artwork of the candle, dedicated to Night flowers. 
✦ ✦ ✦ ✦ ✦ ✦ ✦ ✦ ✦ 
-- DOES NOT SHIP TO USA AND CANADA --
Weight: 220g ✦ 7.76 oz.
Scent: Jasmine ✦ Honey
Burn time: With proper use can last for 40h. Please read included instructions very carefully. 
Ingredients: All natural 100% soy wax made in the USA (propriety blend of hydrogenated vegetable glycerides and non-hazardous ingredients, non-identity preserved soybeans), Jasmine and Honey fragrance made in Switzerland (Free from alcohol).
Safety Instructions: Please read very carefully the safety instructions included with the candle and follow them, to avoid dangerous fire injury or fire. Candles should be used responsibly and always under the supervision of an adult. Do not leave the candle unattended. Always be present when the candle burns and always follow the time burning instructions. 
Always snuff out the flame, do not blow out to avoid  hot wax splatters and injuries, and also to prolong the candle's burn time.
Shipping times: Up to 4 business days.