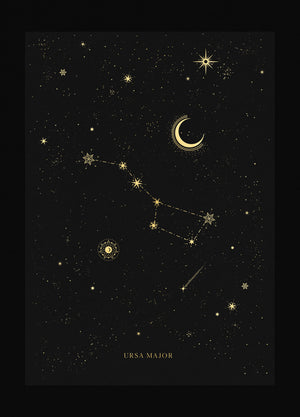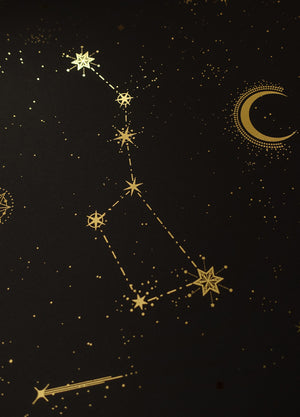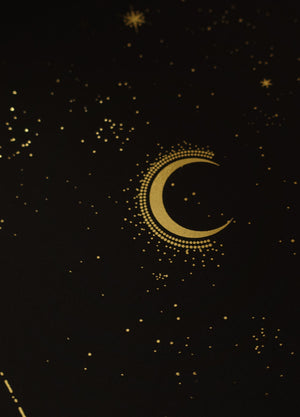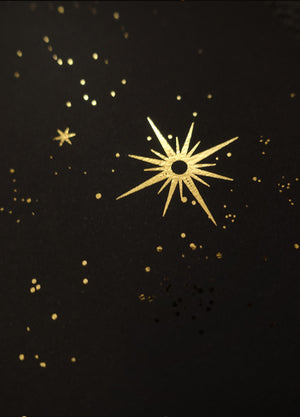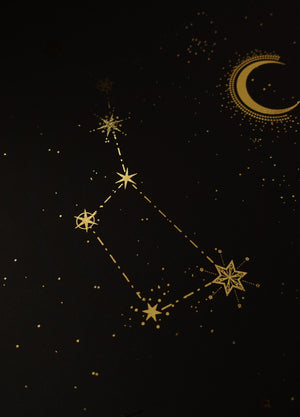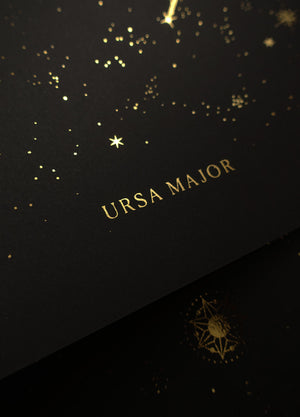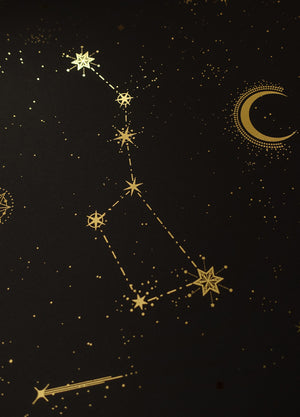 Prints will be available again in a few months. Click on the "Notify me when available" to find out when they'll be back again.
Seven stars form the Big Dipper, the well-known asterism in Ursa Major, which is among the oldest recognized patterns in the sky. It is a prominent pattern of bright stars and is circumpolar for mid-northern to polar latitudes in the Northern Hemisphere. Interestingly, although the pattern represents a variety of objects to many cultures - a plow, wagon, coffin, skunk, camel, shark, canoe, bushel, sickle, even a hog's jaw - stories about this constellation may date back to the Ice Age when ancient people could cross over the Bering Strait to North America. At that time, cultures in both Siberia and Alaska shared a common heritage. It is even thought possible that the constellation actually got its name 50, 000 years ago when a Paleolithic bear cult existed.
A recurring theme that runs through mythology is the kinship of bears and humans. Bears can lumber along on all fours, or stand up on their hind feet and gesture with their front paws. Ursa Major, in its travels throughout the heavens, constantly changes from quadrupedal to bipedal positions, seeming to run along on all fours nearest the horizon and then rising to its hind feet to begin the ascent back into the sky. There have been many fairy tales and fantasies written about people taking the form of bears. In some cultures bears are regarded as gods.
—
Made by us in our Studio
Size: A3 Size (29.7 x 42.0cm), (11.69 x 16.53 inches) / A4 Size (21.0 × 29.7cm) (8.27 × 11.69 inches)
Paper: Cotton Munken Polar 240 gsm.
Features: Metallic Foil
Shipping Package: The Art Print is sent in a thick recycled paper tube, wide enough to keep your print protected. 
Shipping times: Up to 5 business days as each print is made to order.
Environment / Safety: FSC-C020637, PEFC_05-33-99, EU Ecolabel : SE/011/05, The paper is inspected for Nordic Ecolabelled printing, ECF, ISO 14001, EMAS,  Age resistant (ISO 9706), Woodfree 
(Frame not included)