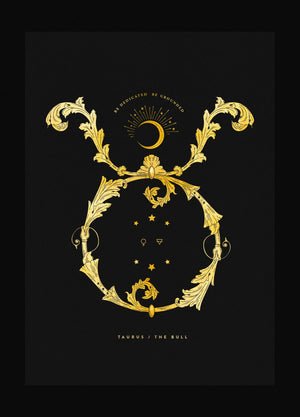 Prints will be available again in a few months. Click on the "Notify me when available" to find out when they'll be back again.
Those born between April 20 and May 20 can likely assume their sun sign is Taurus. (It's not definitive, because the sun moves between signs on different days annually.) Also note that while we tend to refer to ourselves as our sun sign, it's just one detail of a natal chart, which is basically a unique snapshot of the sky when you were born. But it's a detail that helps color your core sense of self, identity, personal style, self-esteem, and confidence.
Typical sun in Taurus traits include being hard-headed, down-to-earth, tenacious, reliable, loyal, and sensual. All of these characteristics mirror themes covered by the Second House of Self-Worth and Income, which Taurus rules. The Second House involves material possessions, how you handle and feel about money-making, the traits you value in yourself and others, as well as how you experience your immediate environment and five senses.
—
Made by us in our Studio
Size: A3 Size (29.7 x 42.0cm), (11.69 x 16.53 inches)
Paper: Cotton Munken Polar 240 gsm.
Features: Metallic Foil
Shipping times: Up to 5 business days.

Shipping Package: The Art Print is sent in a thick recycled paper tube, wide enough to keep your print protected. 
Environment / Safety: FSC-C020637, PEFC_05-33-99, EU Ecolabel : SE/011/05, The paper is inspected for Nordic Ecolabelled printing, ECF, ISO 14001, EMAS,  Age resistant (ISO 9706), Woodfree 
(Frame not included)